2007年 07月 10日
(ENGLISH)
"Love wins"
Tavis Smiley / Television and radio host
This is today's starbucks' quote. (
Click
to read what Starbucks' quote is)
Well, there was this song "Love wins" by Kan.
"Never stop loving, whatever hardships and discouragements
may come upon you"
"Believe it, love will win, without fail, at the end!"
Wow, undefeated spirit! I love it!
---------------------------------------------------------------------
(JAPANESE)
『愛は勝つ』
タヴィス・スマイリー / テレビ、ラジオ司会者
これは今日のスターバックスの言葉です。(スターバックスの言葉とは何かを
知りたい方は
クリック
!) そういえば、こんなKanさんの歌がありましたね。
"どんなに困難で挫けそうでも、愛する事を決してやめないで"
"信じることさ、必ず、最後に愛は勝つ"
おおっ, 不屈の精神!大好きです!
-----------------------------------------------------------------------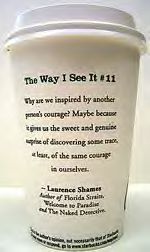 このブログ内でのスターバックス関連記事:
Starbucks Promotes 'Green' movie "Arctic Tale" 6/29/07
The Way I See It #109 5/21/07
The Way I See It #63 & #93 posted on 5/14/07
The Way I See It #229 posted on 5/12/07
Woman pissed off by anti-god quote on Starbucks cups 5/10/07
What is America's Favorite Coffee by the cup? 2/7/07
Learn about Ethos water 9/29/07
Buy water, Feel good 9/28/06
What makes Starbucks so seductive? 4/20/06