2011年 03月 26日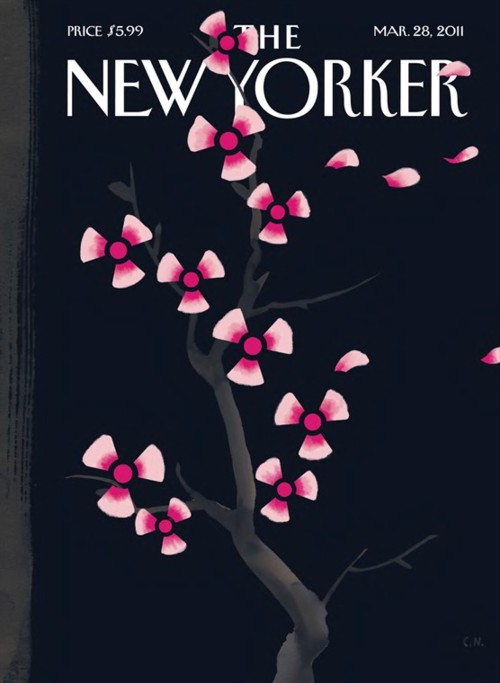 (ENGLISH)
This week, the magazine features the work of two Japanese fiction writers: Haruki Murakami and Kenzaburo Oe. Murakami's story "U.F.O. in Kushiro," which first appeared in their March 19, 2001, issue, and later appeared in his collection "After the Quake," runs again.
Oe writes a Tokyo Postcard on the implications of the nuclear disaster at Fukushima, calling the construction of nuclear reactors in Japan a betrayal of the Three Non-Nuclear Principles—"don't possess, manufacture, or introduce into Japanese territory nuclear weapons"—and of those who died in Hiroshima and Nagasaki:
Japanese history has entered a new phase, and once again we must look at things through the eyes of the victims of nuclear power, of the men and the women who have proved their courage through suffering. The lesson that we learn from the current disaster will depend on whether those who survive it resolve not to repeat their mistakes.
Oe's piece is available online to everyone, (Click
here
!) and Murakami's is available online to subscribers.(Click
here
!)
Sourse:
New Yorker online
(JAPANESE)
今週発売の米誌「ニューヨーカー」では、フィクションライターの村上春樹さんと大江健三郎さんがフューチャーされています。
村上さんは過去の短編小説「UFOが釧路に降りる」が掲載されていますが、これは同誌2001年9月号で初掲載されたものの再掲載となり、後日、村上さんの短編集「After the Quake」(日本語版のタイトルは「神の子供たちはみな踊る」)に収録され発売されています。 そして、大江さんですが、同誌上のコラム「Tokyo Postcard」の中で、福島での核被害は「核兵器を保有しない、製造しない、または日本国内へ持ち込まない」とする3大非核兵器原則と広島、長崎で亡くなった人々への裏切りを示しているとする寄稿文を執筆しています。
「日本の歴史は新しい時代に入った。そして、苦しみの中、我々に勇気を示してきてくれた核被害者の視点に立って、再度この問題を見直さなければいけない。この災害で生き残ったものたちが、同じ過ちを繰り返さないことを解決できるかどうかで、我々が今回学ぶべき教訓が生かされていくのだ。」
大江さんの寄稿全文はニューヨーカーオンライン版で読めます。(ここを
クリック
!) また、村上さんの小説はオンライン有料購読となります。(ここを
クリック
!)
ソース:
New Yorker online